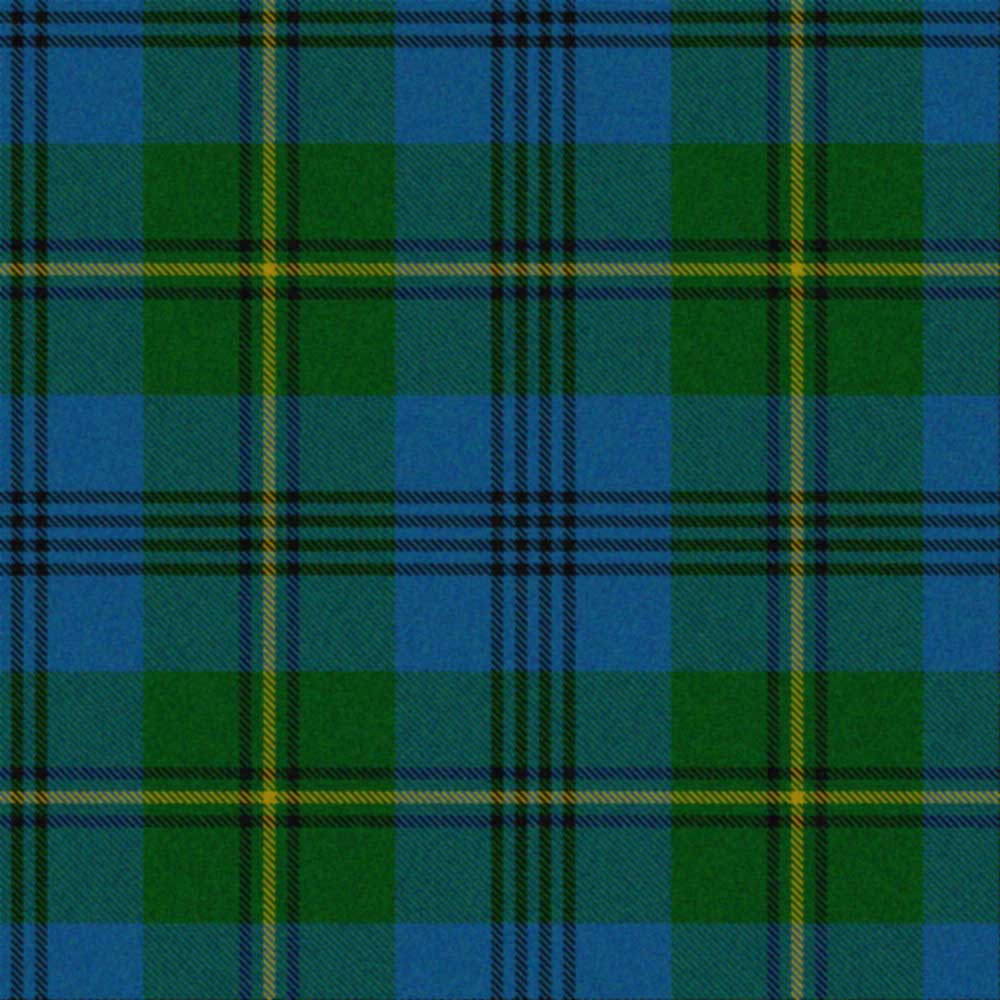 Clan Tartan
Like many other families in the lowland, Germanic cultural-linguistic zone of Scotland, Johnstones' and Johnstons' have appropriated cultural accessories associated with the highland, Celtic zone. The word clan itself was not used by lowland families in the medieval, renaissance and early modern periods. However, a change in Scots' perception towards highlanders in the early 19th century has allowed for a mixing of lowland and highland cultural practices.
A Johnstone tartan was not invented until 1842, when it appeared in a book, Vestiarium Scoticum , which produced many other lowland tartans. This book was published twenty years after a visit to Scotland by the British king George IV, a visit that gave royal imprimatur to 'tartan-mania'. The Johnston tartan might have its origins in plaid worn in Aberdeenshire. It is similar to the tartan of the Gordon's, another north-eastern family.
The tartan has four colours: green, blue, yellow and black.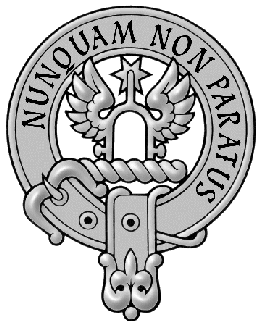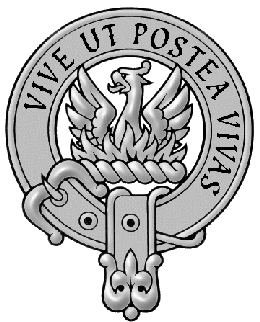 The Crest
There is no coat of arms for a clan. Under Scotland's heraldic court system, the Lord Lyon king of arms recognizes coats of arms for individuals only. The court recognizes a coat of arms for the Earl of Annandale and Hartfell, chief of the name and arms of Johnstone.
Individual clan members may wear a strap-and-buckle badge with the chief's motto on it. The Annandale badge shows a winged spur. The motto, in Latin 'Nunquam non paratus', means 'Never unprepared'; it is usually rendered in Scots as 'Ready aye Ready' (the adverb 'aye' meaning 'always'). The Caskieben badge shows a phoenix rising from flames. The motto, in Latin 'Vive ut postea vivas', means 'Live so that you can live in the future' .
Much of the mythology about the border Johnstones' is not highland or celtic, but specific to the cultures that developed in the marches with England. In the century before James VI of Scots became King of England, border families gained a reputation as raiders, mainly for personal rather than patriotic purposes. These 'reivers' or 'moss troopers' were light horsemen wearing leather jacks and steel morions, and armed with lances, handguns and swords. It is in the renaissance period that our family got the ironic moniker 'the gentle Johnstones'.